PowerPoint to Video Converter Pro è uno strumento professionale che permette di convertire documenti PowerPoint in qualsiasi formato video. Grazie alla sua interfaccia anche in lingua italiana, è molto semplice da usare. Esso consente di ottenere filmati di alta qualità e di conservare tutte le animazioni originali della presentazione powerpoint, suoni, transizioni e filmati.
Con la conversione da PowerPoint a video potrai avere visualizzare le tue presentazioni PowerPoint anche su iPad, iPod, iPhone, dispositivi Android, o caricarle su YouTube, Facebook, Vimeo, Metacafe per la condivisione online.
Scarica la versione demo di Powerpoint to Video Converter PRO o richiedi la versione full:
Dopo l'installazione del software e l'avvio apparirà la seguente finestra iniziale: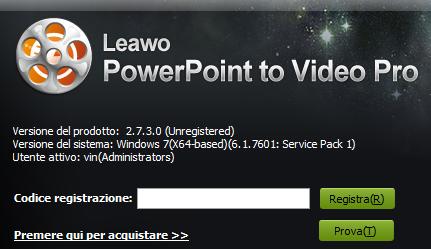 Clicca in basso a destra su "Prova" per proseguire ad utilizzare la versione gratuita del software.
COME CONVERTIRE POWERPOINT IN VIDEO
Passo 1. Importa PowerPoint
Trascina il file PPT o clicca sull'icona "Aggiungi" per importare i file PowerPoint nel programma. Seleziona un file per vedere l'anteprima sulla destra del software. È possibile aggiungere un numero illimitato di file PPT in una sola volta per poi procedere alla conversione di tutti quanti in un solo click!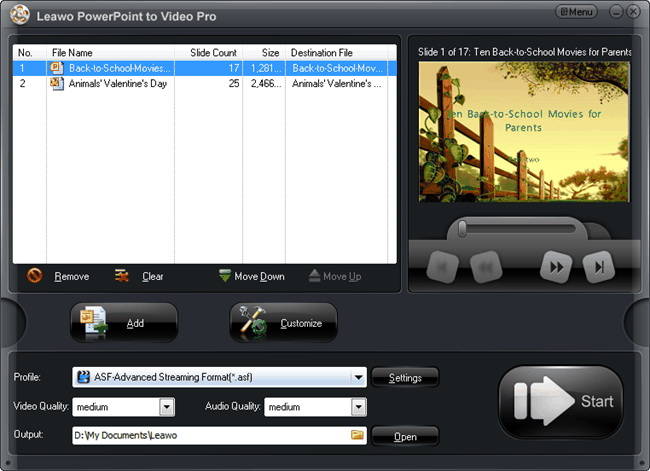 Passo 2. Scegli Formato di uscita
Clicca su "Profilo" e scegli un formato di uscita video dal menu a tendina. Imposta una cartella di output in cui salvare i file video ottenuti.
Passo 3. Avvia Conversione Powerpoint in Video
Fai clic sull'icona "Start" per avviare la conversione da PPT a Video (AVI, MP4, MPEG, WMV, MOV, ecc…). Potrai vedere in anteprima l'uscita video in tempo reale durante la conversione.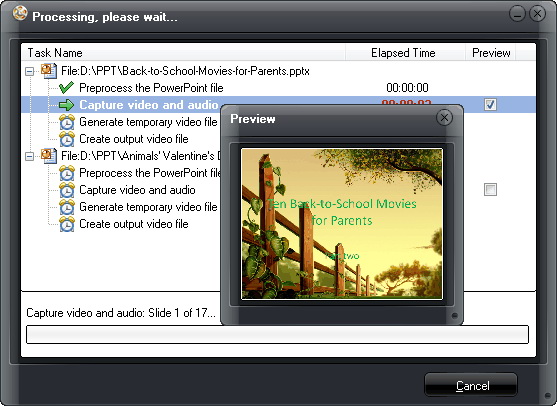 IMPOSTAZIONI AVANZATE
Per gli utenti avanzati, se non si è soddisfatti del video ottenuto in uscita, è possibile accedere alle "Impostazioni" del programma per modificare i parametri video e audio. Tra i parametri modificabili ci sono: codec, bit rate, dimensione video, risoluzione, frame rate, canali audio, ecc…
Una volta effettuate le modifiche clicca su SALVA e il profilo creato verrà reso disponibile sotto la categoria "User Defined" dei formati di uscita disponibili.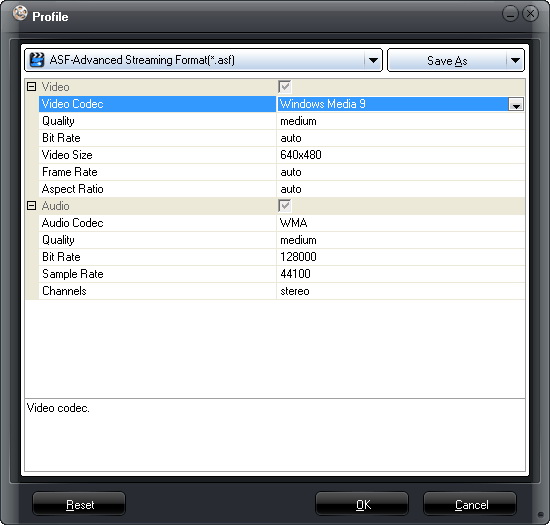 PERSONALIZZAZIONE
Clicca il pulsante "Personalizza" per modificare e personalizzare il filmato che verrà ottenuto dalla conversione del powerpoint. Ecco cosa potrai personalizzare.
Timing: Consente di impostare un tempo di transizione tra le slides della presentazione (variabile da 0 a 100 secondi).


Musica: Consente di inserire una musica di sottofondo nel filmato.


Audio: Possibilità di ignorare il file audio presente nella presentazione powerpoint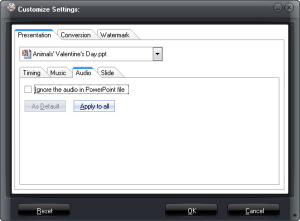 Slide: Scegli di mantenere o non la dimensione delle slides originali.


Conversione: Consente di selezionare la versione di MS PowerPoint o di scaricare PowerPoint Viewer se non si ha installato Powerpoint sul proprio PC.


Watermark: Permette di inserire una immagine, foto o filigrana per proteggere il copyright della tua presentazione.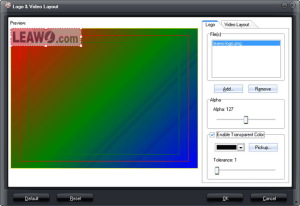 Video Layout: Permette di scegliere i margini del video di uscita (0% – 20%), il loro colore ecc…