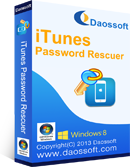 iTunes Backup Unlocker è un software progettato per recuperare la password di protezione del backup del proprio iPhone o iPad o iPod. Capita purtroppo spesso di perdere o dimenticare la password del backup (creato da iTunes) e tale password diventa di vitale importanza nel momento in cui bisogna utilizzare il backup per ripristinare foto, contatti, messaggi, video, note, e così via.
iPhone Backup Unlocker supporta il recupero della password di backup per iPhone 12, 11, X, 8, 7, 7 Plus, 6, 6 Plus, iPhone 5s/5c/5, iPhone 4/4s, iPhone 3GS, iPad, iPad Mini, iPod touch 5G, iPod Touch 4G, ecc…
Il software, a differenza di altri programmi simili, consente di trovare la password del backup in tempi molto più brevi grazie alla tecnologia GPU Acceleration.
E' disponibile sia una versione compatibile con sistemi Windows 10 / 8.1 / 8 / 7 / Vista / XP ma anche una versione compatibile con sistemi Mac OS X.
Download
Scarica dai pulsanti seguenti la versione Windows o Mac di questo programma iTunes Password Finder:
Caratteristiche
Funzioni iTunes Password Rescuer

iTunes Password Rescuer
SCARICA o ACQUISTA
Scarica per Win Scarica per Mac
GPU Acceleration
(5 volte più veloce nel recupero)
Supporta tutte versioni iOS
Supporta iPhone 12/11/X/8/7/6s/6/5s/5c/5/4s/4/3gs
Supporta iPod touch e iPad
Tre modalità di recupero
Brute-force Attack, Brute-force with Mask e Dictionary
Tutorial
Guida: Come Recuperare Password Backup iPhone su Windows
Ecco di seguito i semplici passi da seguire per trovare la password dimenticata del backup del tuo iPhone (o iPad o iPod). Per prima cosa ovviamente scarica e installa la versione demo del software cliccando sul pulsante "Download" nella tabella sopra. La versione dimostrativa consentira' di trovare la password facendoti vedere solo le prime lettere della password stessa. Per vedere tutta la password in chiaro è necessario effettuare l'acquisto della licenza.
Passo 1. Carica file di backup nel programma
Dalla schermata principale del software clicca in alto a destra sul pulsante OPEN. Il programma automaticamente cercherà e caricherà il file di backup che vuoi sbloccare.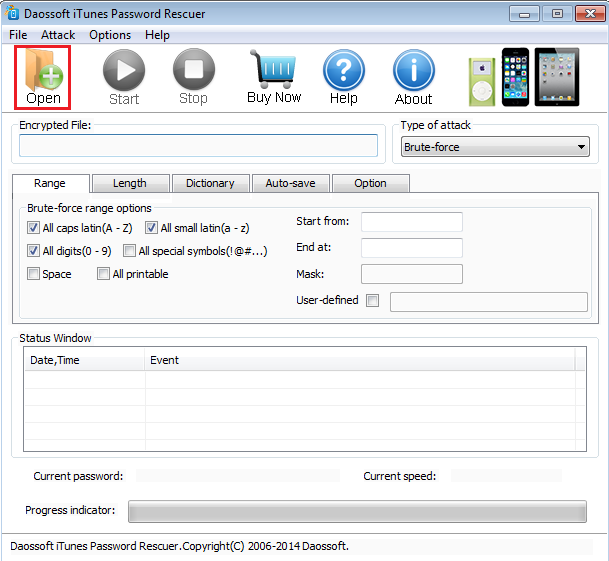 Passo 2: Scegli modalità di recupero password
Il programma prevede 3 modalità di recupero (detti anche modalità di "attacco") grazie alle quali potrai recuperare la password. Ecco le 3 modalità tra cui potrai scegliere:
A.Brute-force Attack
Brute-force Attack è quel tipo di recupero che prova TUTTE le possibili combinazioni della password. Scegli questa modalità se non hai la minima idea della password che stai cercando. Questa modalità di recupero potrebbe impiegare parecchio tempo per trovare la password, quindi ti consigliamo di munirti di pazienza!
B.Brute-force with Mask Attack
Se ricordi qualcosa della password, ad esempio la lunghezza della password, potrai allora scegliere la modalità "Brute-force with Mask Attack". Tra le impostazioni che potrai inserire per trovare più velocemente la password c'è la Lunghezza Password, Intervallo di Caratteri, Inizio o Fine.
C.Dictionary Attack
Se la password che hai utilizzato è una di quelle che usi solitamente, ma non ricordi quale, potresti scegliere la modalità "Dictionary Attack". Con questa modalità potrai caricare un file testuale contenente tutte le possibili password e il programma automaticamente le proverà tutte fino a quando non troverà quella corretta.
Passo 3: Ricerca Password
Una volta scelta la modalità di recupero clicca in baso su START. Alla fine della scansione, che potrebbe impiegare anche ore, otterrai finalmente la password tanto ricercata.