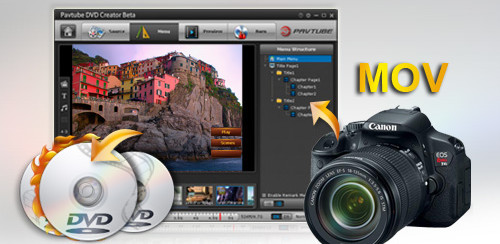 Quasi tutti sanno che QuickTime (.Mov) è uno progetto multimediale sviluppato da Apple e si basa su una speciale tecnologia di riproduzione. La nuova generazione di fotocamere digitali registra video di alta qualità proprio in formato QuickTime (MOV).
Anche se QuickTime è popolare, molti hanno notato che i file MOV QuickTime non possono essere riprodotti direttamente su un lettore DVD. E' indispensabile masterizzare QuickTime MOV su DVD per poter poi vedere i video su qualsiasi lettore DVD. Quello che vi serve è un buon masterizzatore DVD come BURNOVA,  DVD Creator per Windows e DVD Creator per Mac. Essi sono perfetti per convertire il formato MOV di QuickTime in DVD sia su PC Windows che su Mac OS X.
Per quanto riguarda DVD CREATOR puoi scaricare la versione demo gratuita di questo "QuickTime MOV to DVD Converter" per PC o Mac dai link seguenti:
NB: La guida qui sotto si riferisce alla versione Windows. La versione per Mac funziona allo stesso modo.
Guida: Come masterizzare Quicktime MOV su DVD
Passo 1. Importa filmato QuickTime MOV
Dalla schermata iniziale clicca su "Crea dsco Video DVD"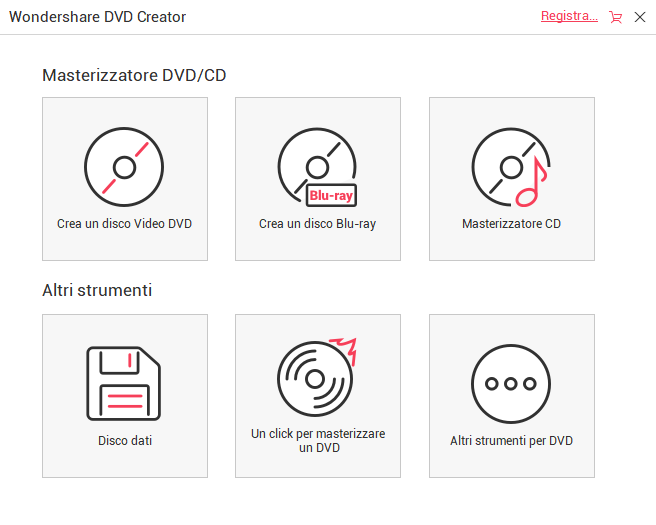 Poi fai clic su "Aggiungi immagini o video" per caricare i filmati MOV dal tuo computer. Fai doppio clic sulla miniatura del video per vedere in anteprima i filmato e regolare eventualmente il volume. Potrai anche organizzare i titoli DVD per migliorare il processo (utile se hai un sacco di file MOV da masterizzare).
Prima di masterizzare il filmato MOV su DVD puoi anche modificare il video e personalizzare il menu DVD. Clicca sul pulsante "Modifica" accanto a ogni titolo del video e potrai ruotare di 90 gradi il video, tagliare le parti indesiderate, regolare il contrasto, la saturazione, la luminosità, aggiungere filigrane, sottotitoli, e così via.
Se si dispone di tanti file QuickTime da masterizzare è consigliabile creare un menu DVD per organizzare al meglio i vari files. Fai clic sulla scheda "Menu" e da qui potrai scegliere il modello (template) preferito da usare.
Passo 2. Anteprima e conversione QuickTime MOV in DVD
Clicca sulla scheda "ANTEPRIMA" per visualizzare i video prima della masterizzazione. Infine premi sul pulsante "MASTERIZZA" per iniziare a convertire i file MOV in DVD.
Con questo "QuickTime to DVD Converter per Windows" sarà davvero facile convertire e masterizzare file MOV su DVD per poter poi guardare film sul grande schermo della tua TV!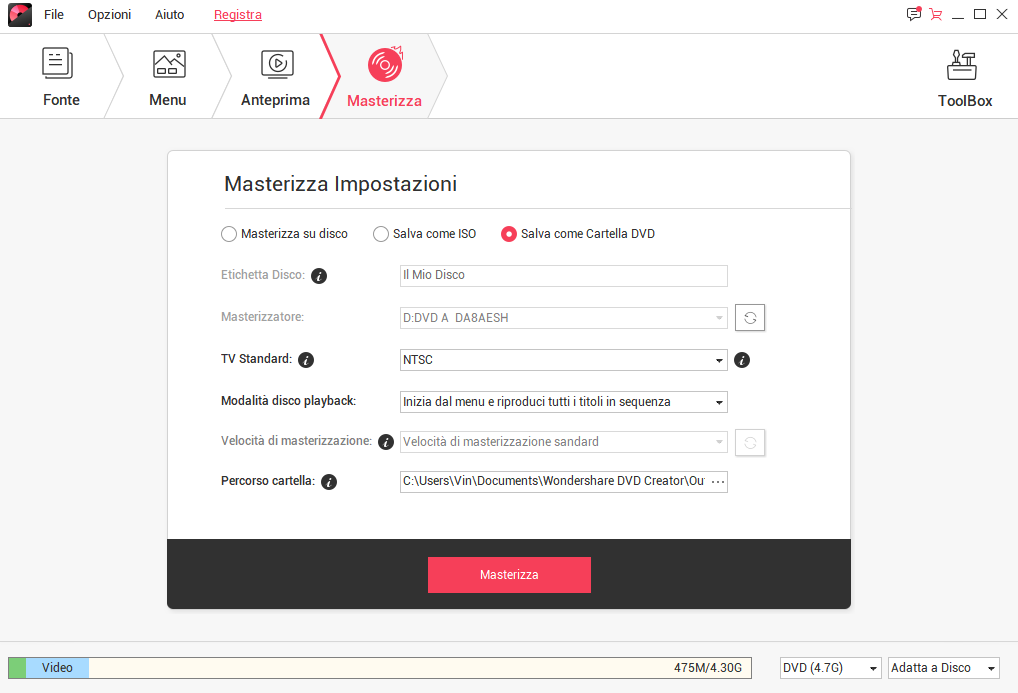 BURNOVA è un software innovativo ideato per masterizzare sia DVD che dischi Blu-ray. Supporta centinaia di formati video, incluso il formato MOV e si caratterizza per l'elevata velocità di masterizzazione. Puoi leggere una guida dettagliata al link seguente: