Sei alla ricerca di un modo per convertire le tue foto in PDF, in modo da poter facilmente condividere foto o immagini sul vostro sito web oppure inviarle via email? Se è così, allora continuate a leggere qui di seguito per capire come convertire foto in PDF in soli 3 passi.
Prima di convertire foto in PDF, bisogna trovare un programma "Photo to PDF Converter". Invece di perdere tempo alla ricerca di uno strumento del genere, consigliamo di provare subito PDFElement uno strumento di PDF Editing professionale. Esso consente agli utenti di creare PDF a partire da foto in soli 2 fasi. Di seguito mostriamo come convertire foto in PDF tramite questo Photo to PDF Converter
Fase 1. Scarica PDFElement
Clicca sotto sul link per il download di PDFelement. E possibile fare doppio clic sul file .exe per procedere con l'installazione sul tuo computer. E' disponibile non solo la versione Windows ma anche quella per Mac. Quest'ultima versione funziona su iMac, MacBook Pro o MacBook Air con sistema operativo Mac OS X >10.7
Fase 2. Convertire foto in PDF
Dopo aver installato il programma PDF Editor, fai doppio click sull'icona di avvio rapido sul desktop per lanciarlo. Poi clicca sul riquadro "Crea PDF". Quando si esegue questa operazione si apre una nuova finestra che chiede di selezionare le foto. Seleziona le foto e aprile nel programma. Subito dopo vedrai che si apriranno in formato PDF. Potrai così salvarle sul computer. Ecco come convertire le foto in PDF!
Se hai bisogno di mettere più foto in un unico file PDF, potrai cliccare su "Combina PDF", pulsante che si trova sotto il riquadro "Crea PDF". Successivamente, nella finestra Combina file, aggiungi le foto e clicca su "Combina" per metterle in un unico file PDF.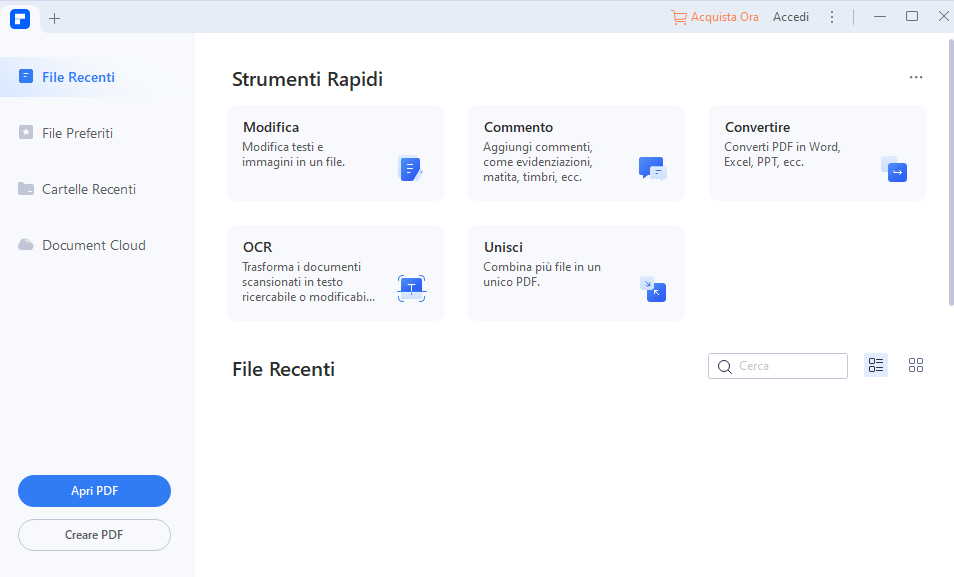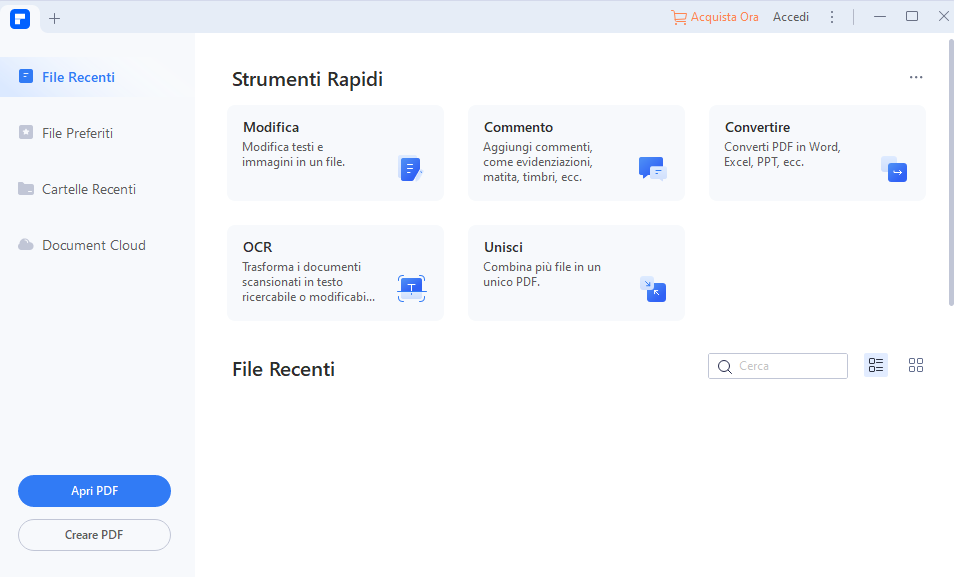 Oltre a salvare le foto in formato PDF, potrai utilizzare questo PDFElement anche per modificare testo del PDF, aggiungere filigrana su PDF e collegamenti ipertestuali.
Scarica subito la versione di prova gratuita di questo straordinario PDF Editor!