"Ho aggiornato il mio iPhone alla versione iOS più recente ma si è bloccato in modalità di ripristino. Utilizzando il computer ho provato ad eseguire il ripristino dal backup di iTunes. Tuttavia, il computer non ha rilevato il dispositivo. Ho provato tutti i modi per risolvere il problema tranne la disinstallazione di iTunes perchè no paura di perdere i dati del backup del telefono. Come fare? E' possibile disinstallare iTunes senza perdere dati?"
iTunes è l'app ufficiale di Apple per gestire e organizzare la propria libreria musicale. Con iTunes è anche possibile sincronizzare la tua libreria musicale con il tuo account iCloud o con il tuo iPhone. Sebbene iTunes abbia tanti difetti (non a caso gli utenti si affidano ad alternative a iTunes), c'è da dire che rimane comunque un software essenziale per gli utenti iOS ed indispensabile per far comunicare il dispositivo col computer (sia Windows che Mac)
Se stai cercando una risposta  alla domanda "Come Disinstallare iTunes senza Perdere Dati?" allora, sarai felice di sapere che questo è l'argomento della guida di oggi. Continua a leggere per saperne di più!
Se disinstallo iTunes perderò il backup del mio iPhone?
Se disinstallo iTunes perderò tutto (backup, libreria musicale, ecc…)? In realtà c'è da dire che tutta la tua musica e le tue playlist di iTunes sono archiviate nella cartella "La mia musica" del tuo computer. Quando modifichi, disinstalli o reinstalli iTunes, questa cartella rimane inalterata. Pertanto, se disinstalli iTunes dal computer, non perderai la tua libreria musicale o il backup del tuo iPhone.
Tuttavia, in alcuni casi, i dati potrebbero essere danneggiati a causa di un problema software e ciò può causare gravi perdite di dati. Se ti trovi in questo scenario, c'è un'alta probabilità che il backup del tuo iPhone possa perdersi non appena disinstalli iTunes. La soluzione appropriata per questo è creare backup della tua libreria musicale per ridurre al minimo le possibilità di un backup danneggiato.
Backup prima di disinstallare iTunes
Se vuoi assicurarti che i tuoi dati rimangano al sicuro anche dopo aver disinstallato iTunes, devi considerare l'opzione del backup regolare. Ciò garantirà che il backup rimanga aggiornato. Di seguito sono riportati due dei metodi più adatti che puoi utilizzare per eseguire backup regolari della tua libreria musicale di iTunes e del backup del tuo iPhone.
#1: Esegui backup dati iTunes con iMusic
Innanzitutto metti al sicuro l'eventuale backup del tuo iPhone, creato con iTunes. Tutto quello che devi fare è accedere alla cartella del tuo computer che contiene questo file e a quel punto potrai copiare e salvare il backup da un altra parte, es. su una chiavetta USB. Ma dove si trova questo backup? Ecco la risposta:
Per Windows XP: \Documents and Settings\(username)\Application Data\Apple Computer\MobileSync\Backup\
Per Windows, Vista, Windows 7, and Windows 8 e 10: \Users\(username)\AppData\Roaming\Apple Computer\MobileSync\Backup\
Per Mac: /Users/USERNAME/Library/Application Support/MobileSync/Backup/
Per poter invece fare backup della libreria musicale di iTunes dovrai affidarti ad un programma come iMusic.
Per prima cosa bisogna scaricare e installare iMusic sul tuo PC o Mac. Ecco i link da cui potrai scaricarlo:
Passo 1. Installa e avvia iMusic sul tuo computer
Il programma rileverà la libreria iTunes e la visualizzerà nella sezione "Libreria" come si vede nella figura seguente:
Passo 2. Accedi alla funzione Backup & Ripristino
Clicca in alto sulla sezione TOOLBOX per accedere ad una nuova schermata dove ci sono altre funzionalità. Tra queste clicca su Backup/Ripristino iTunes
Dopo aver cliccato sulla funzione di Backup, si aprirà la seguente finestra: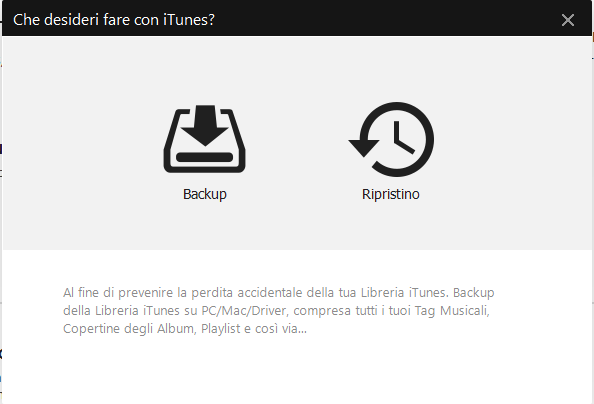 Adesso clicca su BACKUP e potrai vedere tutti i file (playlist, film, canzoni) che potrai salvare. Seleziona i dati da salvare e imposta anche una cartella di destinazione presente sul tuo computer o su un disco esterno (es. chiavetta USB).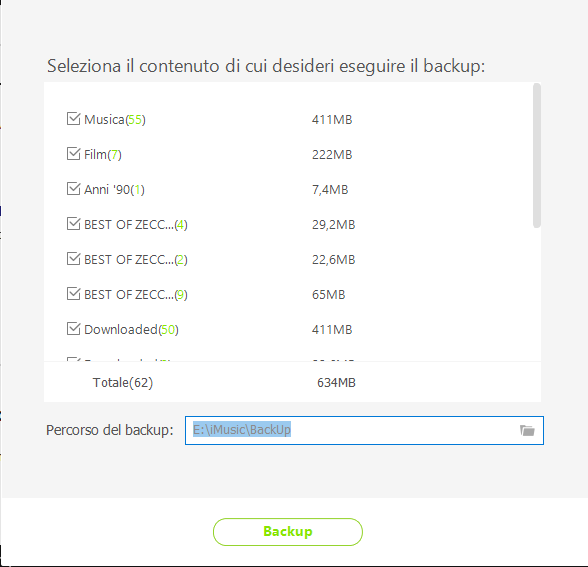 Clicca su BACKUP e il gioco è fatto! Questo backup potrà essere ripristinato su quel computer o su un qualsiasi altro computer sempre tramite iMusic, seguendo i passaggi sopra descritti e scegliendo "Ripristino" anzichè "Backup".
#2: Backup con iCloud
Per il secondo metodo, puoi eseguire il backup dei dati iOS su iCloud. Questo metodo funziona meglio se non desideri utilizzare applicazioni di terze parti per eseguire questo lavoro. Un backup iCloud è piuttosto semplice da farsi in quanto esegue automaticamente il backup non appena vengono trovati nuovi dati. I passaggi per abilitare il backup di iCloud sono elencati di seguito:
Avvia "Impostazioni" dal tuo iPhone.
Tocca il tuo ID Apple fornito nella parte superiore delle Impostazioni.
Seleziona "iCloud".
Scorri verso il basso e premi "Backup iCloud".
Premi "Backup iCloud" per abilitarlo.
Come disinstallare completamente iTunes su Windows
Ora che sai che puoi disinstallare iTunes senza perdere dati, devi cercare il metodo corretto per rimuovere completamente iTunes dal tuo computer. In alcuni casi, potrebbe essere necessario disinstallare completamente la versione corrente di iTunes per poter scaricare una versione diversa. Segui i passaggi seguenti per farlo:
Premi "Ctrl + R" e digita "%programfiles%" nel box di ricerca e premi "OK".
Individua ed elimina le cartelle "iTunes", "Bonjour" e "iPod".
Quindi individua e apri la cartella "File comuni".
Elimina le cartelle "Mobile Device Support", "Apple Application Support" e "CoreFP" nella cartella "Common Files".
Vai alla cartella "Programmi (x86)" ed elimina le cartelle "iTunes", "Bonjour" e "iPod".
Fatto!
Se cerchi un modo più semplice e veloce per disinstallare itunes, puoi anche usare un software professionale che abbiamo già descritto nella seguente guida: come disinstallare programmi in modo completo.