Anche in Italia, negli ultimi anni, le Serie TV (o fiction) hanno avuto un incremento di popolarità e sempre più gente si è affezionata ad esse. A contribuire a questo successo c'è il fatto che esistono serie TV ti ogni tipologia e per tutti i gusti. Sia la Rai che Mediaset che Sky, nel loro palinsesto hanno sempre più serie TV e la tendenza è quella che anche in futuro non mancheranno.
Se ti sei appassionato anche tu a qualche serie TV è probabile che ora tu stia cercando anche un modo per scaricare gli episodi sul tuo computer, in mod da poter rivedere le varie puntate come e quando vuoi. Qui di seguito vogliamo segnalare un programma molto valido che ti consentirà di fare questa operazioni in modo semplice, veloce ed efficace. Il programma in questione si chiama AllMyTube.
Come Scaricare Episodi Serie TV con AllMyTube
AllMyTube è un potente software "video downloader". Cosa significa? Significa che è in grado di scaricare qualsiasi filmato o video clip presente in internet e che viene riprodotto in modalità streaming. Se quindi ci sono delle serie TV che sono presenti anche in internet e che sono disponibili in modalità streaming, non avrai alcun problema ad usare AllMyTube per scaricare gli episodi delle tue serie TV preferite.
Nel momento in cui scriviamo questo articolo, ci sono centinaia e centinaia di serie TV disponibili sui siti di Mediaset Play, Rai Play e Sky.it. Tutte queste serie TV potranno essere scaricate, episodio dopo episodio tramite AllMyTube. Tra le serie TV più amate possiamo citare Teen Wolf, The Vampire Diaries, The Originals, New Girl, How to get away with murder, The Good Wife, Chicago PD, Grey's Anatomy, ecc.. Dividendo per canale possiamo citare alcune serie TV divise per canale:
RAI PLAY: The Good Doctor, Seal Team, The Americans, Private Eyes, Penny Dreadful, N.C.I.S., Elementary, Papà a tempo pieno, Code Black, Dal Tramonto all'alba, Squadra Speciale, Blue Bloods, Extant, X Files, The Exorcist, Rex… tutte le serie TV di Rai Play sono visibili qui o nella pagina delle  fiction RAI
MEDIASET PLAY: Homeland, Guerra e Pace, Le Tre Rose di Eva, Squadra Mobile, Il Principe, Black-ish, Poldark, L'isola di Pietro, Squadra Antimafia, ec… tutte le serie TV e fiction di Mediaset Play sono accessibili da questa pagina
SKY.IT: The Affair, Sharp Objects, Patrick Melrose, e tante altre disponibili in questa pagina
Bene, ora che abbiamo visto l'ampia disponibilità di serie TV in modalità streaming sui vari canali, vediamo come scaricare i vari episodi tramite AllMyTube. In realtà basterebbe seguire le guide già scritte a proposito e cioè:
In linea generale bastano 3 passaggi per scaricare episodi serie TV con questo straordinario programma:
Passo 1. Scarica e installa AllMyTube sul tuo PC
Installa ed avvia il programma. Vedrai tale schermata principale: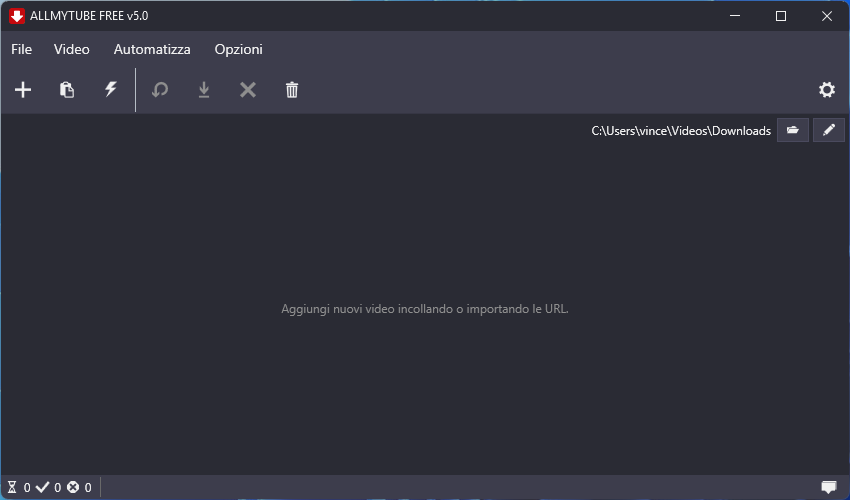 Passo 2. Copia URL del filmato
Accedi alla pagina che contiene lo streaming dell'episodio che vuoi scaricare e copia copia e incolla in alto la sua URL, come evidenziato nella figura sotto: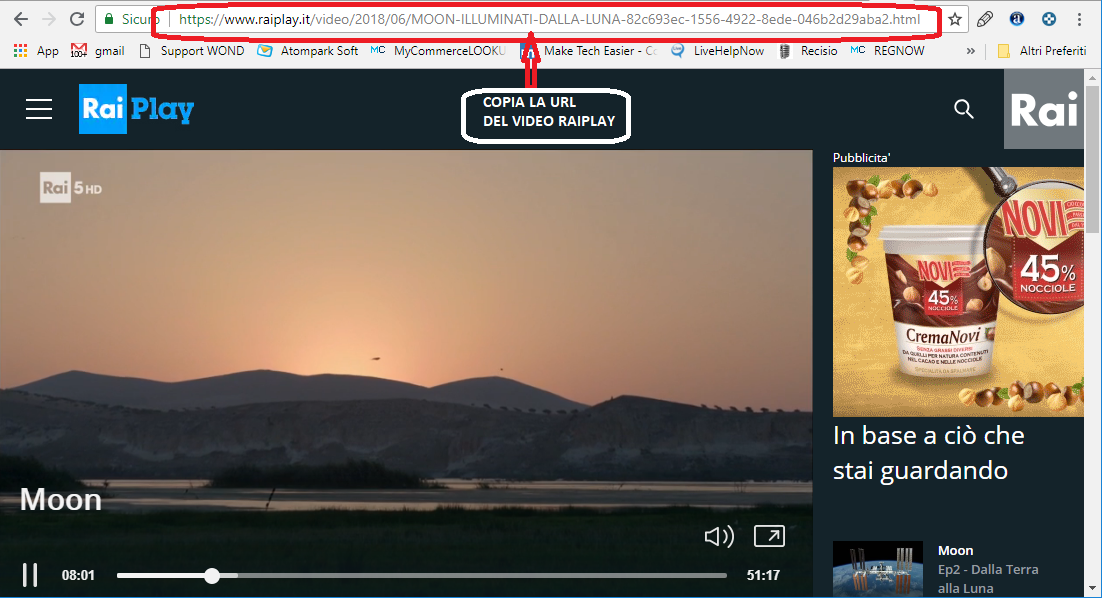 Passo 3. Scarica episodio serie TV
Adesso ritorna nella schermata iniziale di AllMyTube e clicca su INCOLLA URL. Il programma analizzerà il link e poi inizierà a scaricare l'episodio della serie TV. Potrai aggiungere in contemporanea anche i link degli altri episodi in modo da scaricare l'intera serie TV.
Per accelerare il download clicca in alto sul simbolo del fulmine: il programma attiverà la funzione "turbo download" che ti farà risparmiare tempo.
NB: Con la versione demo gratuita del programma potrai scaricare solo un numero limitato di video. Infatti apparirà spesso la seguente schermata che ti avvisa dei limiti della versione trial. Per continuare a usare questa versione clicca su CONTINUA. Se invece vuoi attivare tutte le funzioni del programma clicca su ACQUISTA