Sto cercando di spostare le canzoni (non acquistate da iTunes) da mio iPad sulla libreria iTunes. In pratica ho dovuto formattare il mio computer (causa virus) e tutte le canzoni sono state cancellate dal computer. Le canzoni sono ancora tutte sul mio iPad. Qualcuno sa come posso copiare questi files musicali dal mio iPad su iTunes??? Per favore! Grazie.
Se anche tu hai dei problemi durante il trasferimento di canzoni da iPad su iTunes, hai trovato l'articolo giusto. Per motivi di diritti di copyright dei files musicali, iTunes consente di sincronizzare facilmente la musica su iPad ma NON consente di copiare musica da iPad (non acquistata da iTunes Store) verso iTunes stesso. Pertanto, se sei alla ricerca di un modo facile e semplice per farlo leggi la guida seguente.
Quello che ti serve è un software "iPad to iTunes transfer" come TunesGO per Windows o TunesGO per Mac. Con questi programmi potrai copiare file musicali da iPad su iTunes senza problemi di alcun tipo. Inoltre è compatibile con le utlime versioni di iTunes.
Scarica ora la versione demo gratuita sul tuo computer (PC o Mac):
Passi per sincronizzare canzoni da iPad a iTunes
Ecco di seguito i semplici passi da seguire per trasferire canzoni da iPad a iTunes. Supponiamo di usare un computer Windows per tale operazione. Se hai un Mac, gli step sono pressocchè gli stessi.
Step 1. Collega l'iPad al Computer
Innanzitutto scarica, installa e avvia questo "iPad to iTunes transfer" sul tuo computer. Collega quindi l'iPad al computer tramite cavo USB. TunesGO rileverà in automatico il tuo iPad e lo mostrerà, come si vede nella fig. qui sotto: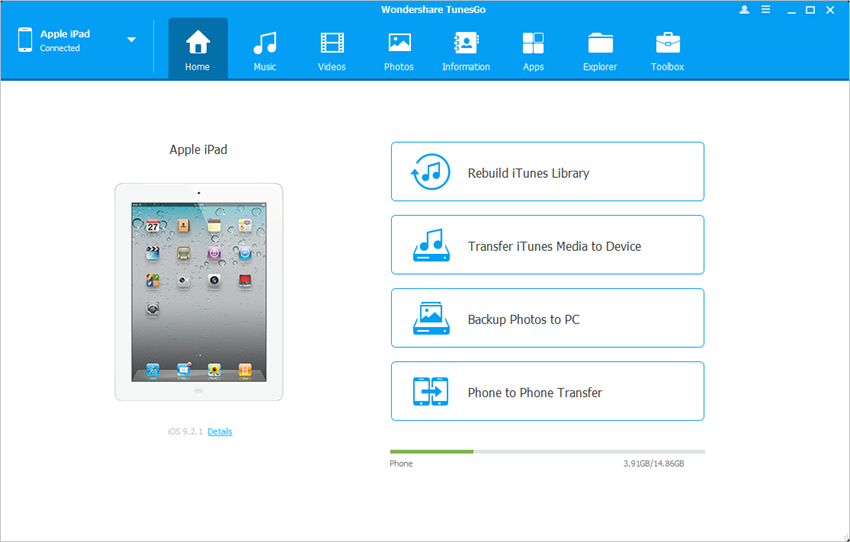 Nota: Assicurati di aver installato iTunes sul tuo computer.
Step 2. Copia canzoni da iPad su iTunes
Adesso clicca sul pulsante "Ricostruisci libreria itunes" per iniziare subito il trasferimento e la copia delle tue canzoni da iPad su iTunes.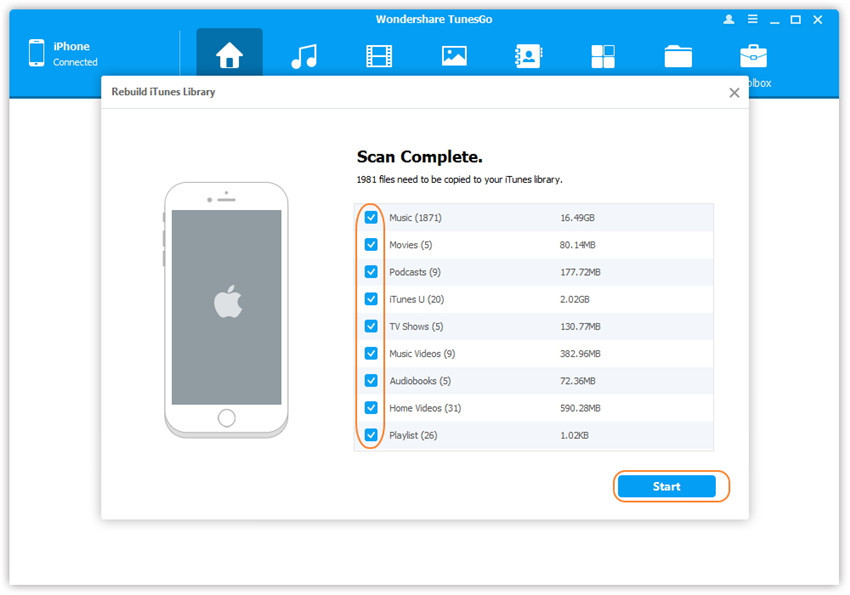 In alternativa puoi accedere alla sezione "MUSICA" nel menu in alto. Si aprirà la finestra con tutte le canzoni presenti nel tuo iPad. Seleziona quelle da trasferire e clicca poi su "Esporta" e dal menu che si apre seleziona "Esporta su Libreria iTunes".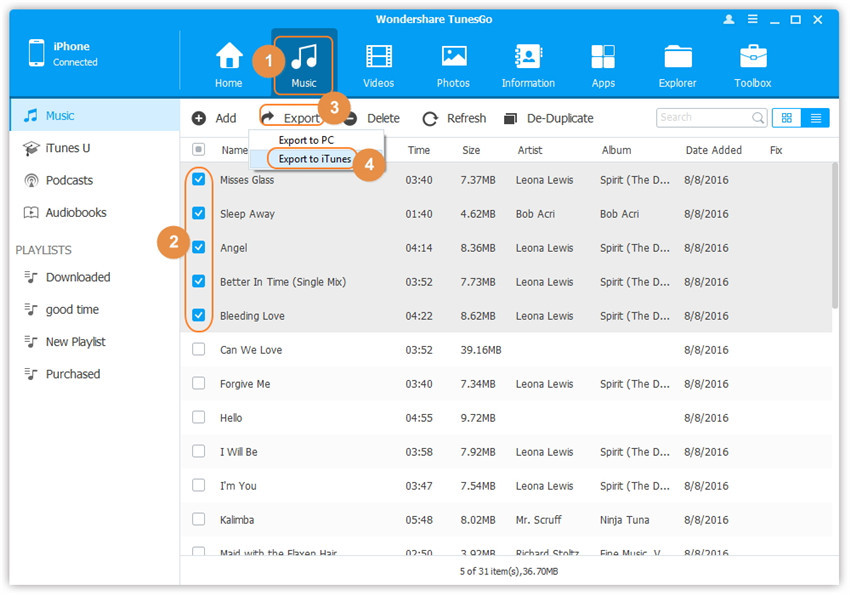 Nota: TunesGO funziona alla perfezione con iPad Air, iPad mini, iPad con Retina display, New iPad, iPad 2 e iPad con qualsiasi versione iOS.
Per trasferire le playlists da iPad su iTunes, clicca sul pulsante "Playlist" nella colonna di sinistra. Poi scegli la o le playlist da copiare e clicca "Esporta su". Infine seleziona la voce "Esporta su Libreria iTunes".
Nota: Al momento è possibile trasferire playlists da iPad su iTunes solo con la versione Windows di TunesGO.
Durante la copia ricordati di non scollegare il dispositivo dal computer!
Come Trasferire canzoni da iTunes su iPad
TunesGO è anche ottimo per chi cerca la soluzione inversa, cioè il trasferimento delle canzoni da iTunes a iPad. Per far ciò devi seguire le stesse indicazioni dettagliate sopra. L'unica cosa diversa da fare è quella di cliccare sul pulsante "Trasferisci Media iTunes sul Device" per procedere al trasferimento delle canzoni dalla tua libreria iTunes direttamente sul tuo iPad!