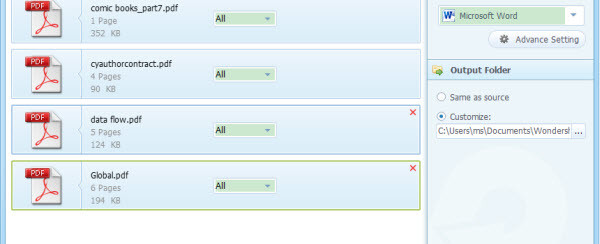 Se ti trovi in questo articolo, molto probabilmente starai alla ricerca di un programma "PDF to Epub Converter" in grado di convertire documenti PDF in EPUB direttamente sul tuo PC Windows. Se si utilizza un telefono cellulare, come iPhone 5S o iPhone 4S, diventa spesso necessario convertire i file PDF in formato EPUB per poterli poi visualizzarli sullo schermo del dispositivo in qualsiasi situazione e luogo. Gli smartphone, come quelli sopra citati, non sempre possono visualizzare in modo completo il contenuto di ogni pagina del PDF. Per poter rendere la lettura più semplice e conveniente bisogna necessariamente convertire il documento da PDF a EPUB. Per effettuare tale operazione segui questa procedura.
Guida: Come Convertire PDF in EPUB
Step 1. Scarica programma PDF to EPUB Converter
Clicca QUI per scaricare PDF Converter per Windows. Poi fai doppio clic sul file .exe per installarlo sul PC. Dopo l'installazione, avvia il programma e vedrai una schermata iniziale come quella raffigurata qui sotto.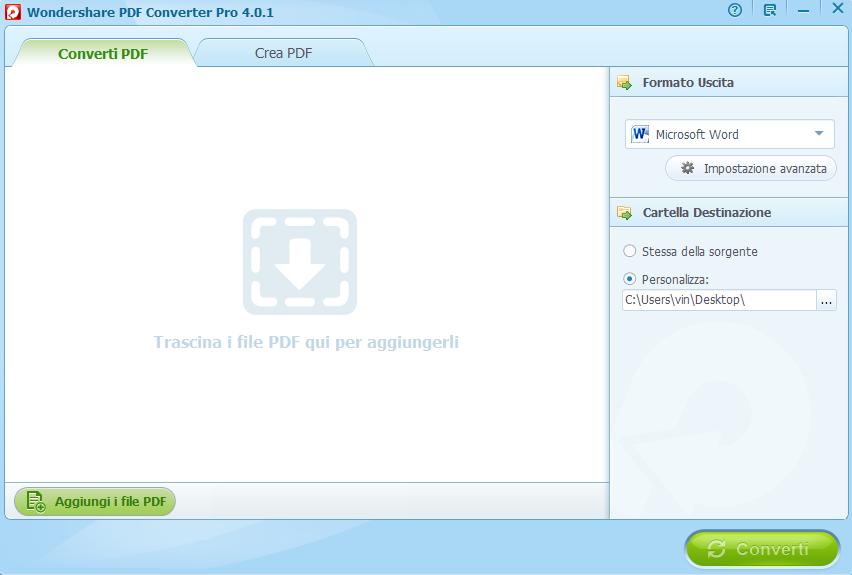 NB: Se possiedi un Mac, vai a PDF Converter per Mac
Step 2. Importa PDF e seleziona formato di output
Trascina e rilascia i file PDF da convertire in EPUB, all'interno dell'applicazione. Oppure fai clic sul pulsante "Aggiungi file PDF" per importare i file PDF. Fino a 200 file PDF possono essere importati contemporaneamente nel programma per la loro conversione in contemporanea!
Quindi, se hai più file PDF da convertire in EPUB, conviene importarli tutti insieme ed eseguire la conversione batch.
Per selezionare EPUB come formato di output, utilizza l'elenco a discesa sulla destra, sotto la scritta "Formato di output".
Step 3. Conversione da PDF a EPUB
Fai clic sul pulsante "Converti" per avviare la conversione da PDF a EPUB sul tuo PC. In pochi minuti, dopo la conversione potrai cliccare sulle piccole icone delle cartelle per accedere direttamente alla cartella di uscita dove troverai gli ebook EPUB. Questo è tutto.
A proposito di questo PDF to EPUB Converter per Windows
È un dato di fatto, questo strumento è più di un semplice "PDF to EPUB Converter per Windows". Si tratta di un app 6-in-1, che permette di convertire da PDF a Microsoft Word, Excel, PowerPoint, HTML e in formato immagini (.Png, .Jpg, .Bmp, .Gif, .Tiff ). Converte i file PDF in maniera ultra veloce mantenendo la formattazione PDF originale e il suo layout. Con esso lavorerai in modo più efficiente in ufficio e senza più problemi di compatibilità per i documenti PDF.