Keynote è il programma ufficiale della casa Apple per la visualizzazione e la creazione di presentazioni. Keynote è in pratica l'equivalente di Powerpoint su Mac, e non a caso supporta anche gli stessi formato (.ppt e .pptx). Cosìcome su Windows è necessario far uso di un programma PDF to Powerpoint Converter, anche su Mac c'è bisogno di un PDF to Keynote Converter. In questo articolo segnaliamo un'ottima applicazione che ti permetterà di trasformare e convertire PDF in Keynote su Mac mantenendo inalterata sia la qualità che il layout del PDF originale.
Tramite Keynote stesso è possibile convertire direttamente un file Keynote in formato PDF ma non è possibile fare il viceversa cioè convertire PDF in Keynote. Per fare tale operazione è necessario far uso di un convertitore ad hoc come quello segnalato qui di seguito.
Come Convertire PDF in Keynote su Mac con PDF Converter PRO
Step 1. Scarica, installa ed avvia PDF to iWork Keynote converter
Qui di seguito ci sono i pulsanti da cui potrai scaricare il programma PDF Converter PRO per Mac, in grado di convertire PDF in Keynote.

Step 2. Importa file PDF da convertire in Keynote
Apri l'app e trascina il PDF nella schermata del programma per importarlo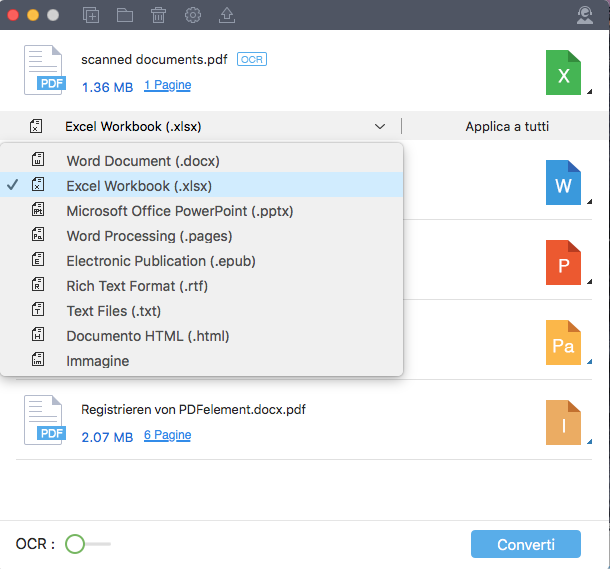 Passo 2: Imposta formato di conversione
Per convertire PDF in Keynote dovrai impostare come formato uscita l'opzione "Powerpoint (pptx)". Se il PDF importato è scannerizzato il programma ti chiederà automaticamente di effettuare la scansione OCR in modo da poter poi eseguire la conversione.
Passo 3: Conversione PDF
Clicca in basso a destra su CONVERTI per iniziare la conversione PDF. Prima della conversione potrai anche decidere se convertire tutte le pagine del documento o solo alcune desiderate.
Passo 4. Importa file PPTX in Keynote
Dopo la conversione da PDF a PowerPoint, trova il file di output e aprilo con Keynote. Non dovrai far altro che aprire il Finder e trascinare e rilasciare il documento PowerPoint sull'icona dell'applicazione Keynote.