FREE

 PHOTO COLLAGE CREATOR
Create beautiful PHOTO COLLAGE, 100% FREE
FREE PHOTO COLLAGE CREATOR is a software that we designed and developed to offer a 100% FREE tool to those who want to create collages of photos ready to print or share. A COLLAGE of photos is a set of photos, placed on the same page, in order to better represent an event or to contain more memories in one place. With FREE PHOTO COLLAGE CREATOR  you can create photo collages in less than 5 minutes and with a couple of clicks.
Do not you believe it? Download now Free Photo Collage Creator on your Windows PC and start mixing all your favorite photos:

 OS Supported: Windows 10/8/7/Vista
Free Photo Collage Creator is 100% FREE:no advertising, no pop-up, no additional software installed
After downloading the software, you will have a file on your computer FreeCollageCreator.exe. Double click on this file to start the installation of the program:
After installing it on your computer you will see the icon shown above. Double-click on it to open the Free Photo Collage Creator home screen:
As you can see from the image above the software is in English language and it's really simple and intuitive to use.
The first thing to do is to click on the button in the center of the program to immediately set up a BACKGROUND IMAGE for your collage.
In the program there are already different images preloaded that you can use as a BACKGROUND of your collage. Some of these images are also in the classic collage size, ie 30X20 cm, and so once you save the project you will be ready to print it in the correct format/resolution. In this page you can find other beautiful and free background image.
If you do not want to use a preloaded background you can easily insert any of your own photos: just open the folder where you store your photos and select the one you want to set as background.
After finding the image or photo to use as a background, select it and click on OPEN. A new window will open in the program, in which you will see this background image (for example we chosen a background with a flowery meadow). In this new window you can start to insert all the photos of the collage: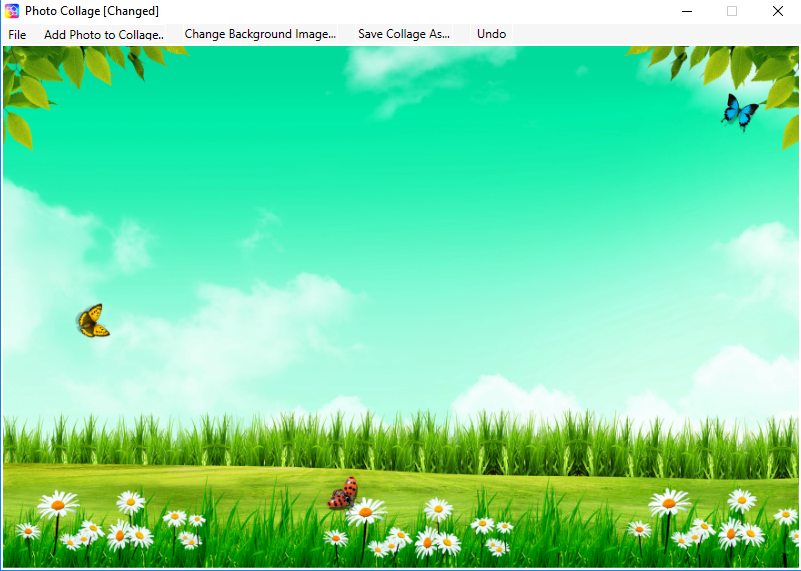 Click on top on ADD PHOTO TO COLLAGE button to start adding your photos. After selecting a photo, you can place it wherever you want on the collage and you can also resize it (zoom out or enlarge it) by first clicking on the photo and then dragging the corner at the bottom right of the image. In our example we have selected and placed 4 photos in the following way:
If you want to change the background image, you can click on "Change Background Image" and select a new image. For example, we have selected a solid pink background: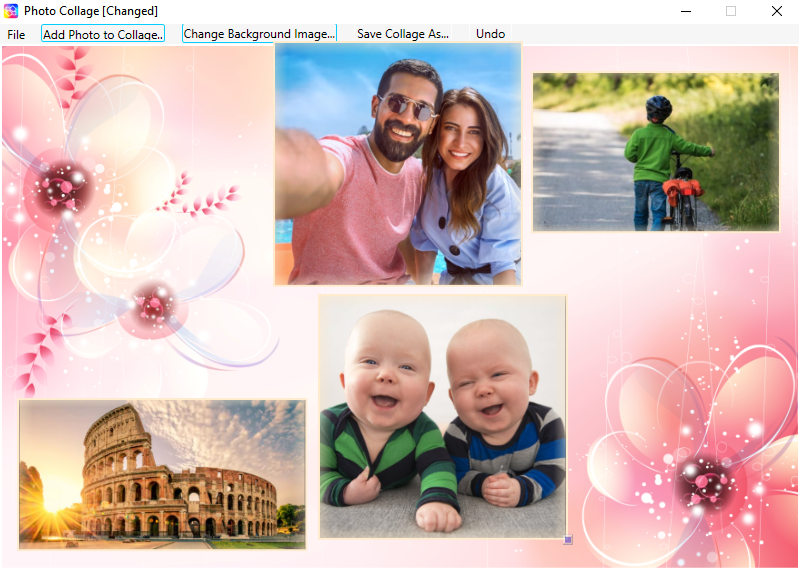 NB: There are no limits to the number of photos you can add to the collage!
Once the collage is ready (and you like it), click on the SAVE COLLAGE AS… button to save the collage in PNG image format on your computer (and in the original size).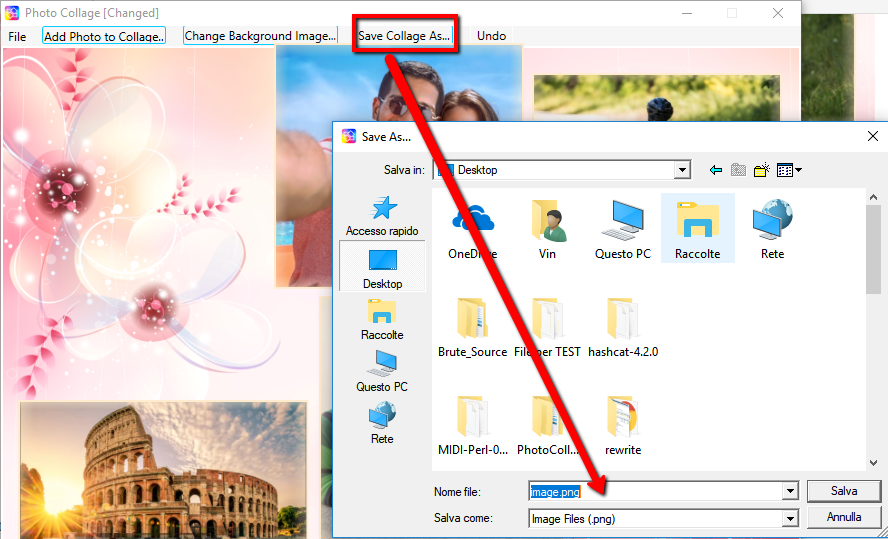 DONE!
Now you will have on your computer a PHOTO COLLAGE ready to print or share how and with whomever you want!
Download this excellent "Photo Collage Maker" for FREE and test your creativity! Have fun!